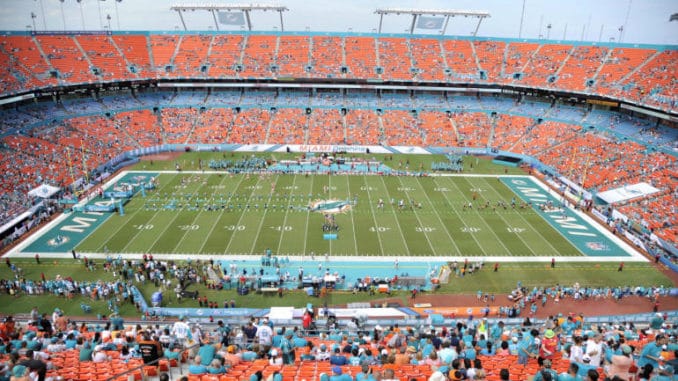 Miami Dolphins 2018 NFL Draft
Miami Dolphins 2018 mock drafts, last year draft recap, Miami Dolphins draft needs, 2018 draft trades.
GM: Chris Grier
Head Coach: Adam Gase
Offensive Coordinator: Dowell Loggains
Defensive Coordinator: Matt Burke
Offensive Scheme: Erhardt-Perkins
Defensive Scheme: 4-3, Attacking
NFL Offensive Rankings
Run: 29 Pass: 18 Total: 25
NFL Defensive Rankings
Run: 14 Pass: 16 Total: 16
2018 Estimated Cap Space
$16,151,518
2018 NFL Mock Drafts
Miami Dolphins 7 Round Mock Draft
DraftGeek's Mock Draft
Miami Dolphins Previous Draft
1/22 Charles Harris OLB MISSOURI
2/54 Raekwon McMillan ILB OHIO STATE
3/97 Cordrea Tankersley CB CLEMSON
5/164 Isaac Asiata G UTAH
5/178 Davon Godchaux DT LSU
6/194 Vincent Taylor DT OKLAHOMA STATE
7/237 Isaiah Ford WR VIRGINIA TECH
Post Draft Thoughts:

"The Dolphins have spent a lot of resources on their defense, but have been lacking pieces that complement each other. Harris is going to be free to get to the quarterback as other defenders garner double teams. McMillan will clog gaps as the defensive tackles attack their gaps. They very much needed a guard as they shuffle their offensive line, and getting Asiata in the 5th round was a very good value."
2018 NFL Draft
The Dolphins could use a year that they sit out free agency and trades in regards to high profile players. This team needs to turn its full attention to the draft and stop making other moves, which, for the most part, have been at the detriment of this team finding cohesion.
It was expected that the Dolphins offensive line would take the next step forward this season, but they have instead regressed to an alarming degree. They have tried to address the offensive line in the draft, but haven't found the right pieces that fit together to make an effective unit. Tunsil is still a work in progress, and it remains to be seen with Asiata can be at guard. It might be time for the Dolphins to target one of the top guards in the draft and pair him with Tunsil and see how that works.
What Miami fans are seeing now is what NY Jets fans saw just a few years ago. Run by the same guy, they are collapsing in the same way that the Jets did under the weight of poor free agency decisions and bad drafts.
Miami will have a decision to make at quarterback. They are not stuck in the contract with Tannehill, and he has battled injuries and bouts of concerning ineffectiveness. Gase's offense would benefit from having multiple versatile tight ends, and some running backs that can catch as well as they can run. A smart, dependable quarterback can operate that system and might not be on the roster as of now.
Miami Dolphins 2018 NFL Draft Needs
QB, WR, TE, OLB, CB