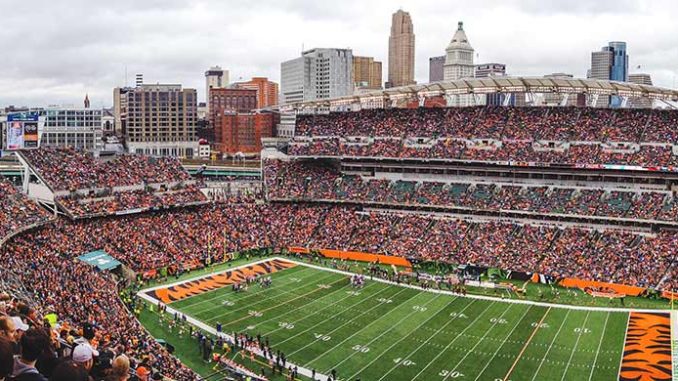 Cincinnati Bengals 2018 NFL Draft
Cincinnati Bengals 2018 mock drafts, last year draft recap, Cincinnati Bengals draft needs, 2018 draft trades.
GM: Mike Brown
Head Coach: Marvin Lewis
Offensive Coordinator: Ken Zampese
Defensive Coordinator: Teryl Austin
Offensive Scheme: Air Coryell
Defensive Scheme: 4-3
NFL Offensive Rankings
Run: 31 Pass: 27 Total: 32
NFL Defensive Rankings
Run: 30 Pass: 8 Total: 18
2018 Estimated Cap Space
$17,827,668
2018 NFL Mock Drafts
Cincinnati Bengals Previous Draft
1/9 John Ross WR WASHINGTON
2/48 Joe Mixon RB OKLAHOMA
3/73 Jordan Willis DE KANSAS STATE
4/116 Carl Lawson DE AUBURN
4/128 Josh Malone WR TENNESSEE
4/138 Ryan Glasgow DT MICHIGAN
5/153 Jake Elliott K MEMPHIS
5/176 J.J. Dielman C UTAH
6/193 Jordan Evans ILB OKLAHOMA
6/207 Brandon Wilson CB HOUSTON
7/251 Mason Schreck TE BUFFALO
Post Draft Thoughts:

"The Bengals have lost a lot of talent the last few years in free agency and always seem to draft guys that are high on mock drafts. They get a lot of high grades from analysts, but they are always locked into the middle class or below. For some reason, there was talk that the Bengals would be a great spot for Mixon to land as they have handled players like him in the past.  The truth is that they have TAKEN players like that, but they haven't HANDLED players at all. There are a lot of trendy names in their draft, but from injury concerns, to scheme fit, to character problems, there are problems up and down the board without any discernible plan.  Willis was a steal falling to them there in the 3rd, and Glasgow is a run blocking machine and a great value in the 4th."
2018 NFL Draft
The Bengals have looked like a different offense since making a change at the offensive coordinator position, and it is a great example of how important scheme and coaching are. The offense utterly collapsed and there was too much stress put on the defense. Both units are talented, save a glaring issue on the offensive line.
The problem with the Bengals, and any talk about their talent is that they are the ultimate "8-8" team. As soon as they seem on the precipice of excellence, they start letting talent walk about the door. Cincinnati deserves a lot of credit in terms of the talent that they continually put together in the draft, but in an age of a salary cap and salary floor, their free agency philosophy seems to keep them from getting to that next level of success.
This is a team that needs help on the offensive line. A fatal error in judgment, promoting players to starting positions without earning it, but rather because they are younger and cheaper is not allowing their offensive weapons to flourish. They might be able to correct that with an exceptionally talented tackle prospect that they can find in the draft, as they surely aren't going to go out and sign one in free agency.
Cincinnati Bengals 2018 NFL Draft Needs
OLB, ILB, CB, DT