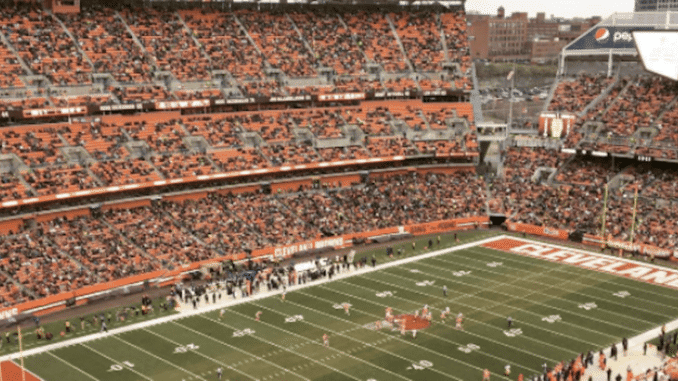 Cleveland Browns 2018 NFL Draft
Cleveland Browns 2018 mock drafts, last year draft recap, Cleveland Browns draft needs, 2018 draft trades.
GM: John Dorsey
Head Coach: Hue Jackson
Offensive Coordinator: Todd Haley
Defensive Coordinator: Gregg Williams
Offensive Scheme: West Coast – Run Heavy
Defensive Scheme: 4-3
NFL Offensive Rankings
Run: 18 Pass: 22 Total: 24
NFL Defensive Rankings
Run: 7 Pass: 19 Total: 14
2018 Estimated Cap Space
$74,968,058
2018 NFL Mock Drafts
Cleveland Browns Previous Draft
1/1 Myles Garrett DE TEXAS A&M
1/25 Jabrill Peppers S MICHIGAN
1/29 David Njoku TE MIAMI
2/52 DeShone Kizer QB NOTRE DAME
3/65 Larry Ogunjobi DT CHARLOTTE
4/126 Howard Wilson CB HOUSTON
5/160 Roderick Johnson OT FLORIDA STATE
6/185 Caleb Brantley DT FLORIDA
7/224 Zane Gonzalez K ARIZONA STATE
7/252 Matthew Dayes RB NC STATE
Post Draft Thoughts:

"The Browns draft in 2017 needs a book about it.  Include the free agency moves and it was absolutely fascinating to see the events unfold. They never should have shown their hand that they had interest in moving up to get Trubisky, but it was a mistake that probably ultimately turned out for the best. And San Francisco should thank them for that as well. Garrett was a safe choice, and the counter actions of moving down and then up netted them two excellent players.  Peppers can have an under the radar year of gaining experience as a safety, and Njoku will be a safety net for whomever is playing QB. Ogunjobi was one of our favorite players in this draft, and can add to a very, very talented defensive line. Johnson was a steal in the 5th round, doesn't need to start this year and can clean up some deficiencies. The Brantley pick was just a mistake unless they have a lot more info than is out there. It is a bad look because, unlike with Conley, there doesn't seem to be enough compelling info to show that he might not have done what he is accused of doing. It is an example of when human common sense needs to supersede moneyball nonsense."
2018 NFL Draft
John Dorsey comes into the Cleveland Browns job with 100 Million in cap space and and 5 selections (for now) in the first two rounds of the 2018 NFL Draft. A knee jerk reaction might be that the previous GM really set him up for success, but in fact, the problem is that the previous decision maker was basically Lt. Tom 'Iceman' Kazansky from Top Gun, and wouldn't pull the trigger on a QB, missing on at least 2 prospects that look like franchise QB's. Sometimes, in the NFL it all comes down to one major point: "It's the Quarterback, Stupid".
The Browns have decided to keep around Paul DePodesta, and in this case, that might end up finally being the right dynamic. Now with a "football guy" in charge with a long, proven track record as having an eye for talent, Dorsey can utilize DePodesta, as a valuable resource. The more data the better, it just shouldn't be the driving force as it was the last few years.
Everything about the Browns revolves around the QB position. Most likely, they will keep just Kizer, and make two moves in the offseason that include a draft pick and the signing of a veteran. Alex Smith makes a lot of sense, as he played under Dorsey and is right at the stage of his career where can hold the fort down as a new, talented QB is groomed.
The Browns actually have two talented lines, but need to stop getting cute with how they approach the draft and free agency.  All of that should be corrected under Dorsey. The game of football is, and has always been about getting good football players. There is an old quote to the effect of "There are coaches with good players, and there are ex-coaches."
There is a big problem, however, with the situation that the Browns are in regarding cap space- signing a bunch of big name free agents to big contracts just never works. Sure, it might work for a year where you look like you are on the way to a championship, such as with the Oakland Raiders and the New York Giants, but then a whole batch of other problems creep up, like other players wanting that big pay check, and the inevitable "misses" on some of those signings that weigh down your cap situation.
Look for the Browns to first look at every existing player and for them to extend and re-sign every valuable player possible. These might be front heavy deals to eat up their cap space now and free up more later. Next, they might be waiting around to see what the Chiefs do about Alex Smith. He has one more year left on his contract, but the Chiefs could try to trade him, but more likely cut him. Smith, along with a few other free agent Kansas City Chiefs would be a logical place for Dorsey to start looking for free agents.
The fanbase for the Browns might be clamoring for big name free agents, but the better approach would be for them to emulate what San Francisco, and to some degree, what Indianapolis is doing. This is to bring in a lot of mid to low range veterans to compete with the rookies, but that aren't big money signings. This is especially effective when you can get one proven veteran, possibly toward the end of his career, that can be the mentor at each position group. This cuts off the problem of talented, high round draft picks from running the show. For clarity, this is exactly the opposite of what Kenny Britt was, who was a prime example of an analytics pick.
Moneyball, Analytics, and the Cleveland Browns:

The Cleveland Browns were a darling of journalists and bloggers that often have an underlying belief that they could manage the team better than the "football guys". In reality, "Moneyball" is one of the most poorly reported on and misunderstood concepts in sports today. However, it is adored by many that cover baseball… and now basketball and football because it is an apparent affront to the "jocks" and a boost to the "nerds", which journalists include themselves in. In truth, the movie Moneyball is mostly fiction. The team succeeded because they had a number of young pitchers they had on the cheap, which were found by traditional scouts, and the note about the Red Sox winning because of Moneyball at the end of the movie was laughable.  They had one of the highest payrolls in the league.

Analytics are an important aspect of professional sports. Teams are using it more and more to gain an advantage, and it is particularly useful in baseball.  However, it is an "aspect" of each sport, just as training, scheme, in-game coaching, traditional scouting, etc.

Furthermore, the idea that being an economist (as one of the main characters in the movie is, and now works for the Browns) gives you a magical edge in picking players is shockingly naïve, as there is an expression in Economics that if you get 10 different Economists in a room you will get 11 different opinions. The Browns have been run by people that have been far too concerned in solving for X rather than knowing X's and O's, and their flippant comments last year stating they didn't have an interest in Wentz as he wasn't a top 20 QB should be enough to never put a hot mic in front of any of the analytics guys.
Cleveland Browns 2018 NFL Draft Needs
QB, OT, S, RB, WR