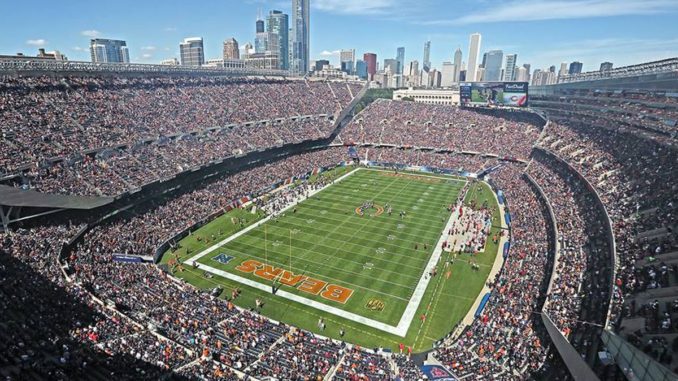 Chicago Bears 2018 NFL Draft
Chicago Bears 2018 mock drafts, last year draft recap, Chicago Bears draft needs, 2018 draft trades.
GM: Ryan Pace
Head Coach: Matt Nagy
Offensive Coordinator: Mark Helfrich
Defensive Coordinator: Vic Fangio
Offensive Scheme: West coast / Spread concepts
Defensive Scheme: 3-4
NFL Offensive Rankings
Run: 16 Pass: 32 Total: 30
NFL Defensive Rankings
Run: 11 Pass: 7 Total: 10
2018 Estimated Cap Space
$37,293,440
2018 NFL Mock Drafts
Chicago Bears Previous Draft
1/2 Mitchell Trubisky QB NORTH CAROLINA
2/45 Adam Shaheen TE ASHLAND UNIVERSITY
4/112 Eddie Jackson S ALABAMA
4/119 Tarik Cohen RB NORTH CAROLINA A&T
5/147 Jordan Morgan G KUTZTOWN UNIVERSITY
Post Draft Thoughts:

"If you simply stated that the Bears drafted Trubisky with the #2 pick overall it is understandable. He looks the part of an NFL starting QB. He has some challenges with his mechanics that need to be addressed, but he is good in the pocket.  He didn't have a lot of starts, but did see the field in a lot of games, and has experience with a lot of pro style concepts.  The issues are the two other aspects to this move: 1) they moved up and gave up a lot to get him when they have a lot of needs, and 2) this was a GM pick and not a GM/Coach pick. GM's and coaches that are not married at the hip don't have a good chance to succeed. Shaheen was a pre-draft darling, and deservedly so.  He is a seam route nightmare to defend, and just seems like a perfect Chicago Bear. Cohen, the "Human Joystick," is slippery and can make big plays out of nothing."
2018 NFL Draft
The Bears parted ways with their coach, and the timing appeared to be right for everyone around. This could be one of the biggest jolts to the system of any team hiring a new coach, as their is a young QB that needs to find a stable system to develop in. They wisely kept their defensive coordinator and won't be having a major need of needing different players for that scheme.
With Nagy as the new head coach and Mark Helfrich as the offensive coordinator, this could be an exciting offense to watch. They will need more playmakers, especially at wide receiver.
The Bears' have not had an ideal year regarding personnel decisions, but at least they have hit on most of the players they have targeted. Trubisky is settling into the quarterback position, and looks like he has the skill set and the disposition to succeed in the NFL, but that still remains to be seen.
There is no reason to dance around it, regarding their primary team needs, the Chicago Bears need wide receivers, and they need them both in free agency and in the draft. Not that you would have known it over the course of several weeks this year, where they hardly threw the ball, which also illustrates a need based on their offensive philosophy.
On defense, they have been slowly building a solid unit. They play in a division with several high powered passing offenses, and should always be looking to add talent in the secondary with two key members of the secondary hitting free agency.
Chicago Bears 2018 NFL Draft Needs
CB, C, DE, ILB