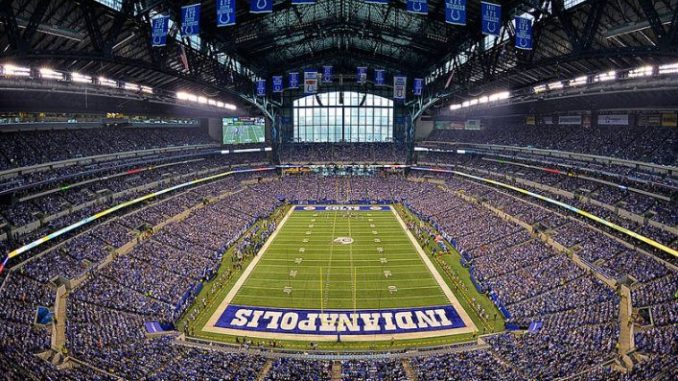 Indianapolis Colts 2018 NFL Draft
Indianapolis Colts 2018 mock drafts, last year draft recap, Indianapolis Colts draft needs, 2018 draft trades.
GM: Chris Ballard
Head Coach: Frank Reich
Offensive Coordinator: Nick Sirianni
Defensive Coordinator: Matt Eberflus
Offensive Scheme: Erhardt-Perkins
Defensive Scheme: 3-4
NFL Offensive Rankings
Run: 22 Pass: 30 Total: 31
NFL Defensive Rankings
Run: 26 Pass: 28 Total: 30
2018 Estimated Cap Space
$73,436,572
2018 NFL Mock Drafts
Indianapolis Colts 7 Round Mock Draft
DraftGeek's Mock Draft
Indianapolis Colts Previous Draft
1/15 Malik Hooker S OHIO STATE
2/46 Quincy Wilson CB FLORIDA
3/80 Tarell Basham DE OHIO
4/137 Zach Banner OT USC
4/143 Marlon Mack RB SOUTH FLORIDA
4/144 Grover Stewart DT ALBANY ST (GA)
5/158 Nate Hairston CB TEMPLE
5/161 Anthony Walker Jr. ILB NORTHWESTERN
Post Draft Thoughts:

"The Colts hit the reboot button on their GM situation and haven't looked back since.  They were wise in free agency to add in players that can hold down the fort as new talent arrives. Part of protecting Luck is simply creating a more balanced team; one with an offense that can run the ball and a defense that can maintain leads so they can get into their 4 minute offense. Hooker is the centerfielder that they need to help stop big plays against them, and Wilson is a physical corner that can boost their secondary. Basham is a relentless pass rusher that can sit behind talented mentors. Steward shined in his all-star game and was a sleeper pick for many draft experts."
2018 NFL Draft
This season probably should have an asterisk next to it for the Colts as they have a new GM that has had to rebuild a roster that was devastated by incompetence, and then never were able to get their all world quarterback on the field. The season might end up being a bit of a blessing in disguise, as it might be the total reboot that they need to make some much needed changes that are difficult for middle of the road teams to make.
TY Hilton was correct, although a little tackless with his criticism of the offensive line. They might have some young, improving pieces, but they are very poor as a unit.  With a star at QB and WR, the Colts need to make the offensive line the focus of the offseason.
The defense for Indianapolis is a work in progress with a lot of cast off veterans acting as placeholders for draft picks of the new GM. There is a particular need at linebacker and cornerback. This team needs an elite pass rusher as well, in whatever system is put in by the new coaching staff.
Indianapolis Colts 2018 NFL Draft Needs
DE, OT, OG, WR, ILB, OLB