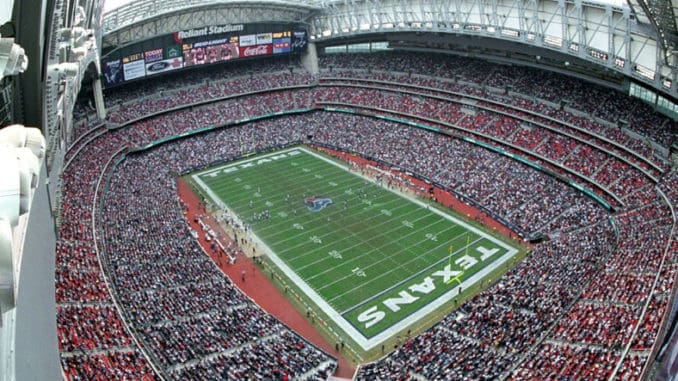 Houston Texans 2018 NFL Draft
Houston Texans 2018 mock drafts, last year draft recap, Houston Texans draft needs, 2018 draft trades.
GM: Brian Gaine
Head Coach: Bill O'Brien
Offensive Coordinator: Bill O'Brien
Defensive Coordinator: Romeo Crennel
Offensive Scheme: Erhardt-Perkins
Defensive Scheme: 3-4
2018 Estimated Cap Space
$34,084,561
NFL Offensive Rankings
Run: 14 Pass: 21 Total: 20
NFL Defensive Rankings
Run: 13 Pass: 24 Total: 20
2018 NFL Mock Drafts
Houston Texans Previous Draft
1/12 Deshaun Watson QB CLEMSON
2/57 Zach Cunningham ILB VANDERBILT
3/89 D'Onta Foreman RB TEXAS
4/130 Julien Davenport OT BUCKNELL
4/142 Carlos Watkins DT CLEMSON
5/169 Treston Decoud CB OREGON STATE
7/243 Kyle Fuller C BAYLOR
Post Draft Thoughts:

"The Texans have a championship defense and some nice weapons on offense. The move to get Watson was bold, decisive, and they hope he will be the missing piece to a championship run. Watson has succeeded under the big lights, but will need to immerse himself in the complicated Texans' playbook. Cunningham finds runners and shuts them down, and it is important for the Texans to have a stocked linebacker core. Davenport was probably the most prototypical left tackle in the draft, but doesn't have much experience against top competition. He can sit in Houston and spend a year learning the position."
2018 NFL Draft
Houston found its quarterback of the present and the future, it is just a shame that he sustained a freak injury in practice and missed the second half of the season. The offense, that is predicated on creating matchup problems was operating on all cylinders, but would have probably slowed down a gear as teams got the book on Watson.  That being said, that is just a natural occurrence in the NFL, and it will be fun to watch how the offense takes the next step, which will be finding the weak links on opposing defenses and exploiting them.
To create a truly dynamic offense that can match up week to week with different opponents, that Texans will need to address their glaring weakness at left tackle, and could use an improvement at guard. This offensive scheme operates best when it has a dynamic, pass catching tight end that can move around, and multiple pass catching, shifty running backs. On defense, Houston has elite talent on the defensive line, but must address deficiencies in the secondary.
Houston Texans 2018 NFL Draft Needs
OT, TE, OG, C, S