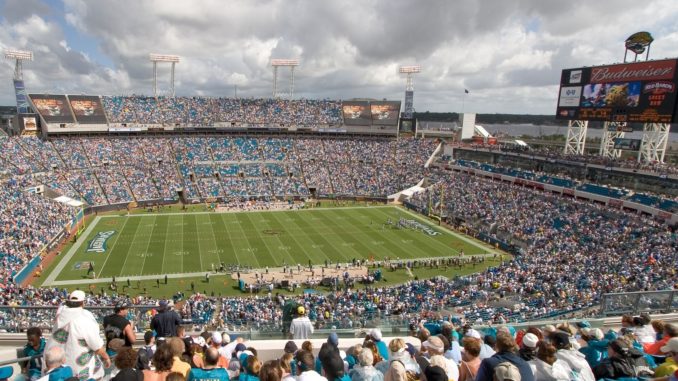 Jacksonville Jaguars 2018 NFL Draft
Jacksonville Jaguars 2018 mock drafts, last year draft recap, Jacksonville Jaguars draft needs, 2018 draft trades.
GM: David Caldwell
Head Coach: Doug Marrone
Offensive Coordinator: Nathaniel Hackett
Defensive Coordinator: Todd Wash
Offensive Scheme: Hybrid Air Coryell
Defensive Scheme: 4-3
NFL Offensive Rankings
Run: 1 Pass: 17 Total: 6
NFL Defensive Rankings
Run: 21 Pass: 1 Total: 2
2018 Estimated Cap Space
$18,544,621
2018 NFL Mock Drafts
Jacksonville Jaguars 7 Round Mock Draft
DraftGeek's Mock Draft
Jacksonville Jaguars Previous Draft
1/4 Leonard Fournette RB LSU
2/34 Cam Robinson OT ALABAMA
3/68 Dawaune Smoot DE ILLINOIS
4/110 Dede Westbrook WR OKLAHOMA
5/148 Blair Brown ILB OHIO
7/222 Jalen Myrick CB MINNESOTA
7/240 Marquez Williams FB MIAMI
Post Draft Thoughts:

"Fournette to the Jags just made sense in so many ways.  Coughlin likes a power running game, and they need to make their offense more dynamic. With a newly acquired offensive tackle that is aging and wanting more money (and not great anyway), getting Robinson in the second round must have been a great relief. Westbrook is a supremely talented receiver but with a lot of character concerns.  He might have landed in the right place to get his mind set straight."
2018 NFL Draft
The Jacksonville Jaguars need a quarterback. Bortles regression in technique was downright shocking the last few years, and they surely knew they needed to address the QB position before the season even started. The discipline that the Jaguars showed in not panicking and giving up draft picks or trading for a middle of the road QB is admirable, and they will have a pick of QB's in next year's first round that will be lucky to land in such a perfect place for a young QB.
The Jaguars defense is loaded with talent, but they could use a versatile safety that won't be a matchup liability against tight ends or running backs. They will be most likely having to protect a rookie quarterback, so more depth on the offensive line and a dynamic tight end that can serve as an outlet in the passing game would help.
Jacksonville Jaguars 2018 NFL Draft Needs
OLB, QB, TE, WR