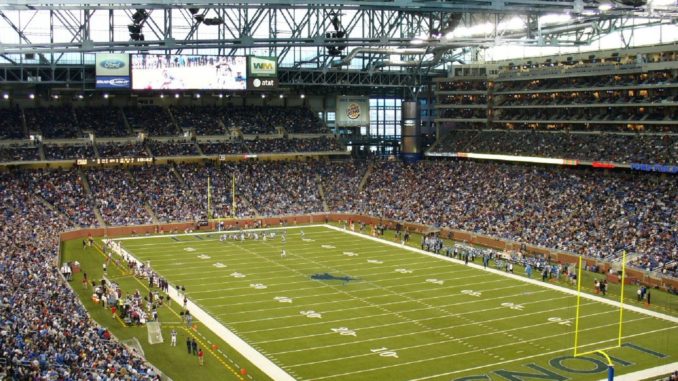 Detroit Lions 2018 NFL Draft
Detroit Lions 2018 mock drafts, last year draft recap, Detroit Lions draft needs, 2018 draft trades.
GM: Bob Quinn
Head Coach: Matt Patricia
Offensive Coordinator: Jim Bob Cooter
Defensive Coordinator: Paul Pasqualoni
Offensive Scheme: Erhardt-Perkins
Defensive Scheme: 3-4
NFL Offensive Rankings
Run: 32 Pass: 6 Total: 13
NFL Defensive Rankings
Run: 18 Pass: 27 Total: 27
2018 Estimated Cap Space
$15,651,251
2018 NFL Mock Drafts
Detroit Lions Previous Draft
1/21 Jarrad Davis ILB FLORIDA
2/53 Teez Tabor CB FLORIDA
3/96 Kenny Golladay WR NORTHERN ILLINOIS
4/124 Jalen Reeves-Maybin OLB TENNESSEE
4/127 Michael Roberts TE TOLEDO
5/165 Jamal Agnew CB SAN DIEGO
6/205 Jeremiah Ledbetter DE ARKANSAS
6/215 Brad Kaaya QB MIAMI
7/250 Pat O'Connor DE EASTERN MICHIGAN
Post Draft Thoughts:

"The Lions had a terrible time last year with opposing tight ends and quarterbacks.  This was primarily due to a linebacker core that got 0 (ZERO!) interceptions and 0 sacks. Add to that a lingering issue with Ansah that kept him out of a lot of games all year and they had a soft zone where opposing QBs feasted.  They desperately needed a linebacker that could not only come in and cover, blitz, and stop the run, but also could become the leader of the defense.  Davis is a perfect fit for that job description, and the addition of Reeves-Maybin in the 4th should help eliminate that soft zone. The talk of Tabor running a slow 40 is overblown, as he won't be following receivers down the field, and Agnew will push for time in the slot. Roberts was near the top of touchdown receptions in college, and has the biggest hands in the draft. The Lions want to run out of 12 personnel and look for Roberts to work the inside, allowing Ebron to move outside much more."
2018 NFL Draft
With a new coach, most probably a defensive one, the Lions could very well be moving to a 3-4, which makes for some interesting changes to draft needs and free agency priorities. If that is the case, and it looks like it will probably happen, then they are in better shape than expected. A'Shawn Robinson and Ziggy Ansah both played in a 3-4 in college, and it minimizes their biggest roster need: defensive line.
The Lions have been making some very good moves under GM Bob Quinn, but it has been quite evident that he took over a roster that needed improvements at most position groups. The loss of Taylor Decker was a prime example of this lack of depth, as they were forced to trade for Greg Robinson as a stop gap solution. Overall, Quinn has greatly improved the roster, but more good drafts and free agency moves are needed.
The linebacker core for the Lions was perhaps the worst in the league last year, but it seems they hit on two draft picks last year, and Whitehead is flourishing again back in his natural position. Where the Lions truly lack talent and depth is along the defensive line. Ansah and Robinson are young stars, but they sorely need more talent on their D-line.
The Lions have to see what their run game can be when Decker gets back, but either the blocking scheme or the play calling is not allowing for any holes whatsoever in the run game. Abdullah is a talented back, but a true power back could add a dynamic to the Lions' offense that hasn't been seen in decades.
After next year Glasgow could move over to center, creating a need at right guard. Swanson is a smart center, but gets overpowered too often.
Detroit Lions 2018 NFL Draft Needs
ILB, OLB, DE, DT, RB, TE