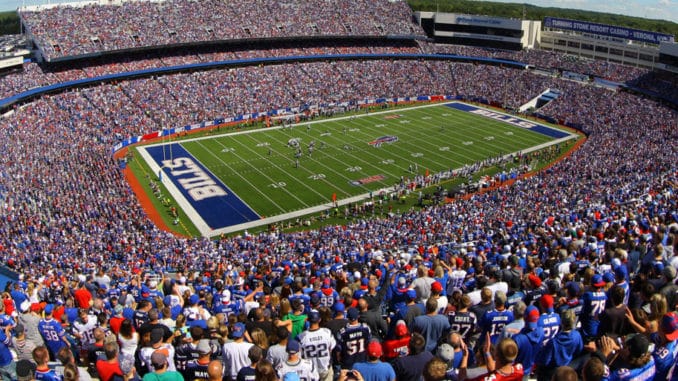 Buffalo Bills 2018 NFL Draft
Buffalo Bills 2018 mock drafts, last year draft recap, Buffalo Bills draft needs, 2018 draft trades.
GM: Brandon Beane
Head Coach: Sean McDermott
Offensive Coordinator: Brian Daboll
Defensive Coordinator: Leslie Frazier
Offensive Scheme: Erhardt-Perkins
Defensive Scheme: 4-3
NFL Offensive Rankings
Run: 6 Pass: 31 Total: 29
NFL Defensive Rankings
Run: 29 Pass: 20 Total: 26
2018 Estimated Cap Space
$19,895,543
2018 NFL Mock Drafts
Buffalo Bills Previous Draft
1/27 Tre'Davious White CB LSU
2/37 Zay Jones WR EAST CAROLINA
2/63 Dion Dawkins G TEMPLE
5/163 Matt Milano OLB BOSTON COLLEGE
5/171 Nathan Peterman QB PITTSBURGH
6/195 Tanner Vallejo OLB BOISE STATE
Post Draft Thoughts:

"Trading down in the first round should have reverberating positive effects for years to come. White is arguably the second best, and perhaps the "cleanest" corner in the draft. After a flurry of wide receivers going early, it was actually surprising that Jones lasted until 37, but it filled a great need at the right spot in the draft. Peterman is out of the box ready after playing in a pro system at Pitt, but the general consensus is that in Buffalo you need a strong armed QB, which he is not. He is extremely smart and ready to play, and they may simply be preparing to build a more short passing, rhythm offense around him.  Dawkins is a nasty player and will fit in immediately at a position of need."
2018 NFL Draft
The Bills have had a very strong turnaround under a new GM and head coach, and have been very active in reshaping their roster over the past 6 months or so. The quarterback position was going to be evaluated as the year went on, and thus far, it doesn't seem like there is any need to address that situation.
Buffalo's new identity revolves around establishing a dominant front seven, not turning the ball over, and having a dominant run game to control the time of possession. Overall, they have made good progress on their goals, and will continue with a long term, disciplined plan. With a number of extra picks, they can continue to add talent, and would love to find a talented edge rusher to add to the ferocity of their front seven.
Buffalo Bills 2018 NFL Draft Needs
QB, OLB, ILB, WR, RB