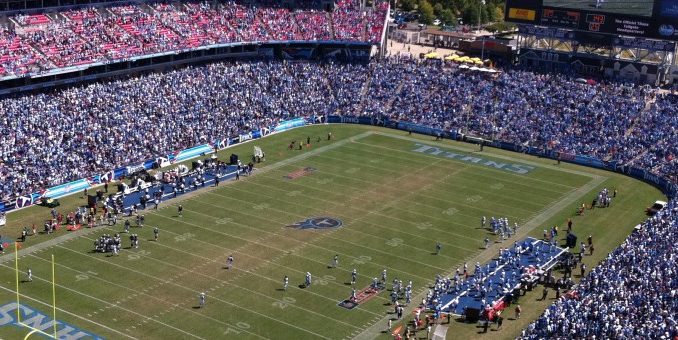 Tennessee Titans 2018 NFL Draft
Tennessee Titans 2018 mock drafts, last year draft recap, Tennessee Titans draft needs, 2018 draft trades.
GM: Jon Robinson
Head Coach: Mike Vrabel
Offensive Coordinator: Matt LaFleur
Defensive Coordinator: Dean Pees
Offensive Scheme: "Exotic Smashmouth" (Run Heavy)
Defensive Scheme: 3-4
NFL Offensive Rankings
Run: 15 Pass: 23 Total: 23
NFL Defensive Rankings
Run: 4 Pass: 25 Total: 13
2018 Estimated Cap Space
$38,177,984
2018 NFL Mock Drafts
Tennessee Titans Previous Draft
1/5 Corey Davis WR WESTERN MICHIGAN
1/18 Adoree' Jackson CB USC
3/72 Taywan Taylor WR WESTERN KENTUCKY
3/100 Jonnu Smith TE FLORIDA INTERNATIONAL
5/155 Jayon Brown OLB UCLA
6/217 Corey Levin G CHATTANOOGA
7/227 Josh Carraway OLB TCU
7/236 Brad Seaton OT VILLANOVA
7/241 Khalfani Muhammad RB CALIFORNIA
Post Draft Thoughts:

"The Titans were a team that had an excellent foundation of core players.  What they needed was to add the frosting and get more dynamic. Davis and Taylor are going to instantly change the wide receiver core into a versatile, exciting unit that should produce big plays and allow them to become much less predictable. You can even add in a little Adoree Jackson, who could see time in some special packages.  With Jackson, they add a corner that is just scratching the surface on his potential."
2018 NFL Draft
The Titans have been slowly building one of the more talented rosters in the league, but still have some work to do on defense. The addition of Jackson last year was a nice first step, but they could definitely need another corner and a safety to help maintain leads and keep teams from going deep on them.
Tennessee has a lot of young talent that probably still needs time to develop, so it is not as obvious as to where their primary needs are, but with two exceptional tackles, there does seem to be a need on the interior of the offensive line. The team was built to run the ball, and they shouldn't stop at just finding top talent at tackle, and to add an elite guard to run behind.
Depending on where the Titans end up drafting, they might have to make a decision on whether to draft an edge rusher earlier, while they are still available. It is a need, and would go a long ways in helping out the secondary.
Tennessee Titans 2018 NFL Draft Needs
DE, ILB, S