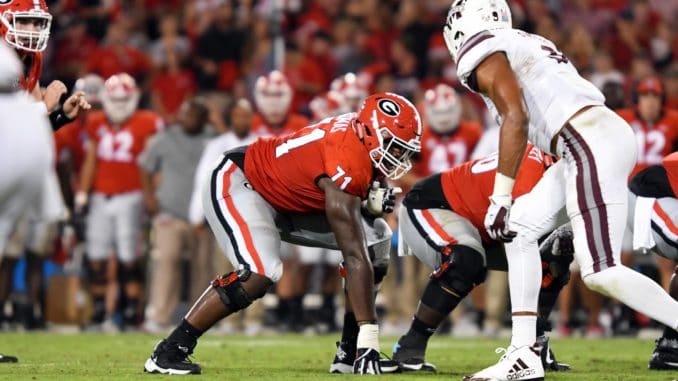 2020 NFL Draft Offensive Tackle Rankings includes a prospect ranking, a breakdown of scouting for the position, key questions about the position, and a link to learn more.
Offensive Tackle Rankings:
Tristan Wirfs, Iowa
Mekhi Becton, Louisville
Jedrick Wills, Alabama
Andrew Thomas, Georgia
Austin Jackson, USC
Josh Jones, Houston
Ezra Cleveland, Boise State
Matt Peart, Uconn
Saahdiq Charles, LSU
Lucas Niang, TCU
Prince Tega Wanogho, Auburn
Isaiah Wilson, Georgia
Tommy Kraemer, Notre Dame
Terrance Steele, Texas Tech
Jack Driscoll, Auburn
Yasir Durant, Missouri
Jared Hilbers, Washington
Trey Adams, Washington
Tyre Phillips, Mississippi State
2020 NFL Draft Offensive Tackle Ranking
"Length" is key component of left tackles. Height, arm length, hand size all super important.
Footwork is very important, important for left tackles to handle speed.
Hand placement is needed for locking onto defenders, especially against power.
"Good overall technique" common trait for well coached, experienced tackles.
Left tackle prospects need to have a lot of starts at left tackle and against top competition to generally be considered elite.
Good "bend" and able to use "leverage"?
How did they fared against top DE prospects also in the draft?
Right Tackles may lack length, but need to be known as good run blockers.
"Road Grader" is exceptional run blocker.
"Ability to get to next level"… in run game or short passing game, able to beat a blocker, and move deeper into defense to block linebackers or other defenders.
"Versatility" – able to play guard as well.
Many tackles in college are best suited to move inside, but could be great guards in the NFL.
Able to defend "speed" and "power".
Number of sacks allowed.
Who are the top 2020 NFL Draft Offensive Tackles?
Mekhi Becton, Louisville, Andrew Thomas, Georgia, Tristan Wirfs, Iowa, and Lucas Niang, TCU.
What are the key traits for scouting Offensive Tackles for the 2020 NFL Draft?
Height and length, anchor, footwork, experience, hand placement and strength.
When and where is the 2020 NFL Draft?
In April of 2020 at Paradise, Nevada.