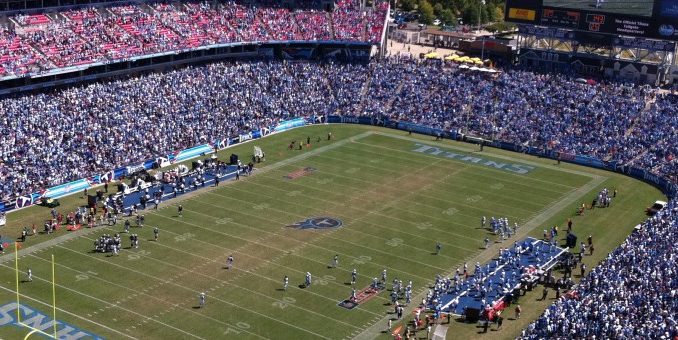 Tennessee Titans 2020 NFL Draft
Tennessee Titans 2020 NFL Draft: Tennessee Titans 2020 mock drafts, last year draft recap, Tennessee Titans draft needs, 2020 draft trades.
Salaries / Contracts
Up to Date Salary Cap Info | Up to Date Contract Info
Tennessee Titans 2020 NFL Draft Grade: "Not So Sure About That"
1 (29). Isaiah Wilson, T, Georgia
2 (61). Kristian Fulton, CB, LSU
3 (93). Darrynton Evans, RB, Appalachian State
5 (174). Larrell Murchison, DT, N.C. State
7 (224). Cole McDonald, QB, Hawaii
7 (243). Chris Jackson, S, Marshall
No team surged more than the Titans did last year. They have drafted well, and they "zigged" when everyone else "zagged" and shocked the league with a power run game. However, this does look look a reach, followed by a bad fit, followed by a reach in this draft.
Wilson a mauler and true right tackle. But, in no way did he separate himself from a slew of other prospects that could have been gotten throughout the next 3-4 rounds. This was probably one of the biggest reaches of the first few rounds.
Tennessee then followed that up with Fulton, who went about where he should have probably, but he doesn't seem to be a fit. Fulton has huge bust potential, and doesn't have that fierce quality that they look for. PErhaps they can bring that out of him.
Next, they grabbed a running back that can complement their star power back. But, looking after this pick, there were many prospects that fit this criteria, and they could have addressed a different need here.
Tennessee Titans 2020 NFL Draft: Last Year's Draft
1-19: Jeffery Simmons, DT (Mississippi State)
2-51: A.J. Brown, WR (Ole Miss)
3-82: Nate Davis, G (Charlotte)
4-116: Amani Hooker, S (Iowa)
5-168: D'Andre Walker, LB (Georgia)
6-188: David Long Jr., LB (West Virginia)
Tennessee Titans 2020 NFL Draft: 2018 Draft
1-22: Rashaan Evans, LB (Alabama)
2-41: Harold Landry, DE (Boston College)
5-152: Dane Cruikshank, CB (Arizona)
6-199: Luke Falk, QB (Washington State)
Draft Grade: Quiet Value
Simmons is a top 10 talent except for his knee. He probably won't be fully up to speed this year, but the best teams take a long view of the draft. He was an absolute wrecking ball this year and you have to grab him where they did.
Somehow, A.J. Brown dropped in value AFTER the season was over. Getting him at 51 was a great value. Metcalf was the sexier prospect, but A.J. Brown was better in every way that matters. He can line up everywhere, and plays with technique and physicality. He is the final piece to this WR core.
Davis looked very comfortable against top competition during the draft process.
Hooker was one of the least talked about prospects, and one of the most under-rated safeties in this draft.
Long is undersized, but extremely physical. They will probably find a place where can almost exclusively move forward and clean up the gaps, allowing others around him to make plays.
GM: Jon Robinson
Head Coach: Mike Vrabel
Offensive Coordinator: Arthur Smith
Defensive Coordinator: Dean Pees
Offensive Scheme: "Exotic Smashmouth" (Run Heavy)
Defensive Scheme: 3-4