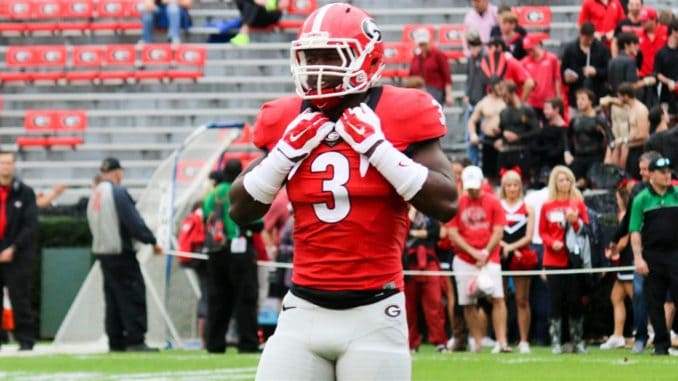 2018 NFL Draft Prospects by Position:
Offense
Quarterback | Running Back | Wide Receiver | Tight End | Offensive Tackle | Offensive Guard | Center
Defense
Defensive Tackle | 3-4 Nose Tackle | Defensive End | Outside Linebacker | Inside Linebacker | Cornerback | Safety
2018 NFL Draft Inside Linebacker Ranking
Height: 6-0 Weight: 225 lbs
One of the best tacklers in college football, Smith has both the natural instincts and the football smarts to avoid blockers and find his way to the ball carrier… Full Profile
Height: 6-3 Weight: 234 lbs
After moving from being a pass rush specialist from the edge to linebacker, Evans is finally gaining experience after sitting behind future NFL high drafts picks at Alabama… Full Profile
Height: 6-4 Weight: 240 lbs
Coming off a year where he was named the Mountain West Defensive Player of the Year, Vander Esch saw his draft stock soar, and declared for the draft relatively early…Full Profile
Height: 6-1 Weight: 236 lbs
An instinctive and smart inside linebacker that can captain an NFL defense… Full Profile
Height: 6-1 Weight: 240 lbs
Excels at moving downhill, plugging gaps, and getting into the backfield… Full Profile
Height: 6-2 Weight: 237 lbs
A tackling machine that can maintain the interior gaps on the defense. After suffering a season ending injury in 2016, Sam bounced back in his Junior year, becoming one of the nation's best tacklers…Full Profile
Height: 6-1 Weight: 235 lbs
A solid tackler that has had an up and down college career to say the least. After being kicked off the team for some serious behavior issues, Allen rebuilt his reputation and was accepted back… Full Profile
Height: 6-1 Weight: 245 lbs
A key component to the Notre Dame 4-2-5 defense, Morgan has been a team leader for much of his college career… Full Profile
Height: 6-1 Weight: 240 lbs
A very physical and technique sound tackler that has developed into an instinctual and intelligent inside linebacker… Full Profile
Height: 6-1 Weight: 235 lbs
The signal caller and a natural leader, and was off the field for the only two games that Alabama has lost the last two years… Full Profile
Example Draft Considerations:
Maybe the toughest scouting reports to make, because a lot of confusion:

Inside linebackers in 3-4 aren't generally premium players in the draft, but there is always a couple that have exceptionally well rounded skillsets that sneak into early rounds.
The two inside linebacker positions in a 3-4 often have fairly varied responsibilities, one being the move-forward, run stopping, gap-filling player that needs to be a strong, reliable tackler, and the other being the playmaker that has more freedom to roam.
The inside linebackers in the draft that more often get drafted high are really going to be Middle Linebackers in a 4-3.

If a linebacker in college is a tackling machine, is big and strong, a violent tackler that wraps up well, and they seem to be much better moving forward than back, they are probably going to be an ILB in a 3-4 at the next level.
The star Inside Linebackers are most often playing OLB in college, and need certain skills:

Ability to diagnose plays quickly.
Able to call defenses, so smarts and experience.
Chase down running backs and wide receivers.
Move forward to defend the run.
Drop into coverage.
Blitzing ability.
Able to tackle.
Relentless.
Loves football…this is mentioned for this position more than any other (referring to linebackers in general).
Do they "wrap up" tacklers.
Often referred to as "off-ball" linebackers, just another term for a guy suited for ILB in 3-4 or middle linebacker.