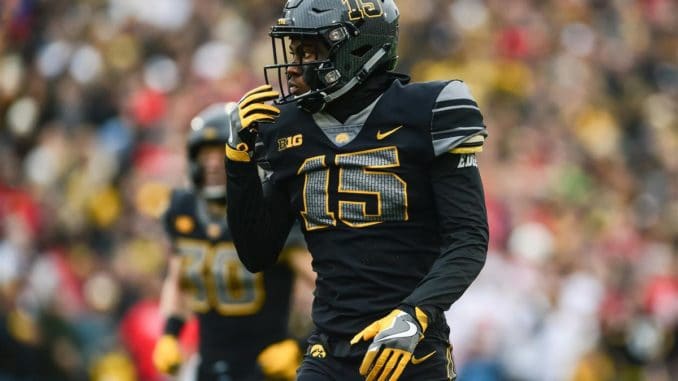 2018 NFL Draft Prospects by Position:
Offense
Quarterback | Running Back | Wide Receiver | Tight End | Offensive Tackle | Offensive Guard | Center
Defense
Defensive Tackle | 3-4 Nose Tackle | Defensive End | Outside Linebacker | Inside Linebacker | Cornerback | Safety
2018 NFL Draft Cornerback Ranking
Height: 5-10 Weight: 192 lbs
Experienced and intelligent defensive back that is a natural leader. Extremely fast, won't be outrun by receivers, and with a small frame has excellent agility… Full Profile
Height: 5-11 Weight: 170 lbs
Upper echelon recognition skills with results to prove it. Slight frame, and needs to continue to add muscle… Full Profile
Height: 5-11 Weight: 191 lbs
A transfer after having run into trouble early in his college career. Started out at UNC, but had legal troubles and had to transfer to a community college…Full Profile
Height: 6-1 Weight: 195 lbs
Incredible ball awareness, coupled with exceptional hands and agility. In his first full year as a starter, Jackson has been the most productive defensive back in college football, which should subside as offensives will simply start throwing the ball his way… Full Profile
Height: 6-0 Weight: 190 lbs
One of the most gifted athletes in the draft, Oliver is a track star with terrific long speed… Full Profile
Height: 5-11 Weight: 168 lbs
Lightning fast, dubbed "The Fastest Player in College Football", and deservedly so… Full Profile
Height: 6-1 Weight: 203 lbs
A big, physical cornerback that will excel in man coverage, and will be very attractive to teams that love to press… Full Profile
Height: 6-0 Weight: 170 lbs
After dealing with a number of injuries and on a team loaded with NFL talent in the secondary, this could be a breakout year for Averett… Full Profile
Height: 5-11 Weight: 200 lbs
Extremely smart and hard-working player that works on his craft and is very detail oriented… Full Profile
Height: 6-2 Weight: 200 lbs
Has the height and build that NFL defensive coordinators love, and was extremely productive in his first year as a starter, reeling in 8 interceptions… Full Profile
Example Draft Considerations:
First thing to notice is size. 5′-11″+ and 195lbs.+ would be considered the bigger size that NFL teams want. Bigger size than that is worth mentioning.
Is he probably better as zone or press cover guy? Press guys generally are bigger and stronger, but not absolute.
Long arms are a major plus, especially with outside corners.
Ability to "locate the ball" quickly.
Fights for contested balls.
Sometimes they have "wide receiver mentality" wanting the ball.
Can stay with fast receivers down the field.
Can press receivers at the line.
Strong against the run is important, good tackling ability.
"Flips Hips" well allows to stay with receivers, especially in man coverage.
Number of INT's is important as well as pass break ups.
Experience is important, number of starts at corner.
Might they be a safety at next level? And general versatility to play in various positions.
Is he more of an outside or inside corner?
Can they cover tight ends as well as shifty RB's?
Can they contribute in punt return and kick return game?