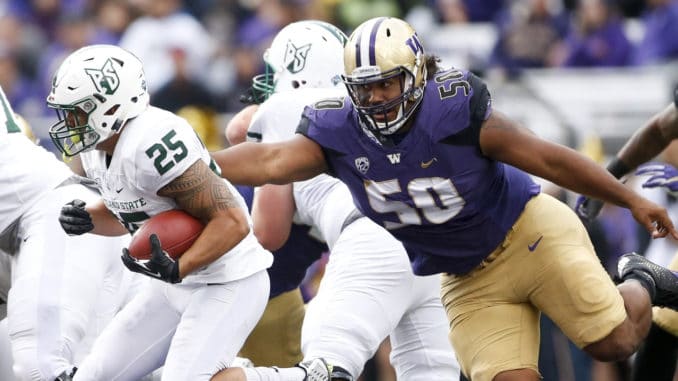 2018 NFL Draft Prospects by Position:
Offense
Quarterback | Running Back | Wide Receiver | Tight End | Offensive Tackle | Offensive Guard | Center
Defense
Defensive Tackle | 3-4 Nose Tackle | Defensive End | Outside Linebacker | Inside Linebacker | Cornerback | Safety
2018 NFL Draft Defensive Tackle Ranking
Height: 6-4 Weight: 332 lbs
Fits firmly into the role as a 3-4 nose tackle that those teams covet. Powerful anchor and extremely difficult to move… Full Profile
Height: 6-2 Weight: 319 lbs
Elite defensive tackle that utilizes exceptional technique with both his footwork and hands to go along with a powerful build and natural athleticism… Full Profile
Height: 6-4 Weight: 291 lbs
A very versatile defensive line prospect that can play up and down the line in a 4-3, and on the outside in a 3-4… Full Profile
Height: 6-2 Weight: 282 lbs
Despite not being a starter on perhaps college football's best defensive line that sent 3 players to the NFL, Hurst was still able to be productive as a rotational player… Full Profile
Height: 6-4 Weight: 285 lbs
A long armed defensive lineman that does an excellent job of anchoring and controlling the lanes around him… Full Profile
Height: 6-2 Weight: 335 lbs
A proven pass rusher that so far has shown to best fit as a 4-3 tackle in an attacking defensive scheme… Full Profile
Height: 6-5 Weight: 300 lbs
A raw prospect that grew into his body later than most, and still has room to add quality weight. Shepherd is a project, but his physical gifts will force a team to take a chance on him and develop him because of his very high ceiling…Full Profile
Height: 6-1 Weight: 312 lbs
Possesses superb one-gap skills on the inside, while still maintaining the size to hold up against the run… Full Profile
Height: 6-3 Weight: 295 lbs
A force against the run, Thompson has shined as a two-gap run stuffer in Georgia's new defensive scheme brought in by Kirby Smart…Full Profile
Height: 6-1 Weight: 310 lbs
A small school standout, P.J. Hall has been terrorizing offensive backfields all year long, often attracting triple teams to just keep in contained…Full Profile
Example Draft Considerations:
Identify all guys as primarily "one gap" or "two gap" defenders. They are generally more of a one gap, penetrating guy, or a two gap, run defending guy.
One gap skills is the single biggest booster of ranking in the draft. DT's that get after the QB are super valuable.
Number of sacks and Tackles for Loss
Have multiple pass rush moves or just power?
Long arms and able to be a two gap guy defending both gaps around him?
Able to take on double teams allowing guys around him to make plays?
Strength of base. Does he anchor well?
Does he play hard every play and chase down plays?
Ability to play a lot of plays and not get tired.
A lot of DT's in college are not asked to be one gap guys, but that is what they will be at the NFL, so sometimes have to qualify that skill without having stats like sacks to back it up.