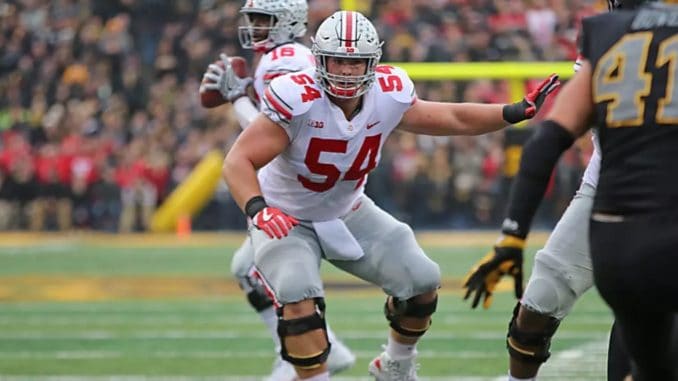 2018 NFL Draft Prospects by Position:
Offense
Quarterback | Running Back | Wide Receiver | Tight End | Offensive Tackle | Offensive Guard | Center
Defense
Defensive Tackle | 3-4 Nose Tackle | Defensive End | Outside Linebacker | Inside Linebacker | Cornerback | Safety
2018 NFL Draft Center Ranking
Height: 6-4 Weight: 295 lbs
A very athletic and agile center that would be very attractive to an NFL team that uses a lot of pulling of interior linemen… Full Profile
Height: 6-3 Weight: 312 lbs
Prototypical size and length of today's NFL Centers. Exceptionally athletic, and has the ability to play center and guard… Full Profile
Height: 6-5 Weight: 319 lbs
Centers have been an evolving position in the NFL, as the increased use of the shotgun has allowed the use of larger players, capable of taking on powerful defensive tackles… Full Profile
Height: 6-5 Weight: 305 lbs
Tall center with a big frame, and incredibly durable. Smart and experienced, and has played a considerable amount of time at tackle as well…Full Profile
Height: 6-4 Weight: 297 lbs
Anchor of one of the best offensive lines in the country, an experienced and smart interior offensive line prospect… Full Profile
Height: 6-2 Weight: 302 lbs
An experienced, hard-nosed leader of an offensive line that plays in an NFL pro-style system… Full Profile
Height: 6-4 Weight: 314 lbs
Has most of his college experience at guard, but was able to move over to play center without looking uncomfortable at the position whatsoever… Full Profile
Height: 6-5 Weight: 314 lbs
Bozeman is a massive prospect for a center, and has been a critical part of Alabama's offense… Full Profile
Example Draft Considerations:
Can they and have they played guard?
They are taller and bigger now because of the shotgun. Worth mentioning because the smaller centers in the draft will have issues with defensive tackles and will need help from a guard to block. Big, long armed centers don't need help to double team defenders.
Smaller centers are perhaps best suited for zone blocking NFL teams.
Experience is very important.
Did they call blocking assignments? Rare in college, but does happen and is a plus.
Any experience snapping besides in the shotgun?