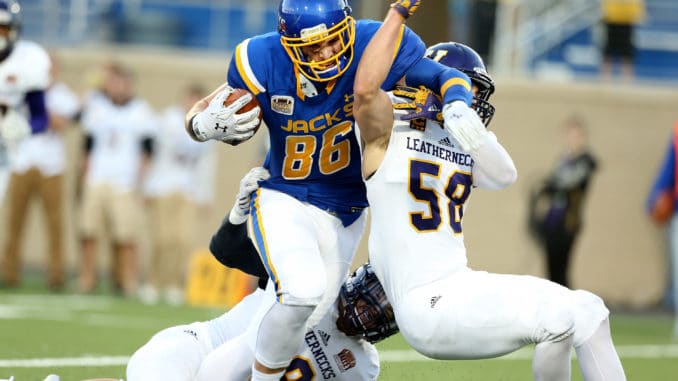 2018 NFL Draft Prospects by Position:
Offense
Quarterback | Running Back | Wide Receiver | Tight End | Offensive Tackle | Offensive Guard | Center
Defense
Defensive Tackle | 3-4 Nose Tackle | Defensive End | Outside Linebacker | Inside Linebacker | Cornerback | Safety
2018 NFL Draft Tight End Ranking
Height: 6-4 Weight: 250 lbs
Tough, gifted athlete that went back to football after a stint as a minor league baseball player… Full Profile
Height: 6-4 Weight: 258 lbs
Athletic, "move" tight end that is a matchup problems for linebackers and safeties alike… Full Profile
Height: 6-5 Weight: 250 lbs
A towering red zone threat, Andrews has been productive when thrown the ball, which has been sparingly, but has increased over the last two seasons… Full Profile
Height: 6-6 Weight: 257 lbs
A post-up style tight end that can run a route, turn back to the QB and box out defenders… Full Profile
Height: 6-5 Weight: 257 lbs
Has a solid frame, and is a good athlete that was productive later in 2017 after missing extensive time due to an injury. Not in the best system to showcase his receiving skills as a tight end, Smythe has made the most of his targets… Full Profile
Height: 6-4 Weight: 248 lbs
A down the field threat that plays more like a big wide receiver than a traditional tight end. His career started slowly, but was brought into the offense more this last year, and got healthy toward the end of the season… Full Profile
Height: 6-4 Weight: 252 lbs
A powerful, blocking tight end that injured his knee during the season, but had already put up lots of quality tape throughout his career… Full Profile
Height: 6-6 Weight: 250 lbs
A powerful inline blocker that has already established himself as a reliable pass catcher in a pro style offense… Full Profile
Height: 6-6 Weight: 240 lbs
Solidly built blocking tight end that displays very good pass catching skills when called upon… Full Profile
Height: 6-4 Weight: 240 lbs
A matchup nightmare tight end that has done most of his damage from the outside. After missing the first 5 games of the season with an injury, Conklin has validated his 2016 tape… Full Profile
Example Draft Considerations:
Pure blocking tight ends can be found later in the draft and don't often get scouting profiles.
Tight ends that are scouted get evaluated on two, two-part scales:

Receiving Ability / Blocking Ability
Able to line up outside / able to work inside routes

"Catch Radius" is important… good with tall, big armed TE's. Often refer to these guys as able to "post up" like an NBA power forward… running routes, turning around and having balls thrown to them where defenders don't have a chance. Often offer little yards after catch, but dependable.
"Seam Route" matchup nightmares.  Some tight ends can make an NFL career out of this one skill.
"Matchup Nightmare"… this is often used for a tight end that is basically a bit too big to be considered a WR, but still has speed. Too big to be covered by corner or safety, too quick to be covered by linebacker.
Reliable hands.
"H-Back" qualities… able to act as lead blocking fullback, or even ball carrier sometimes.
Inline blocking skills… able to act as 6th offensive lineman in run game.
Open field blocking skills.
A "Move Tight End" is a tight end that can play both inside and outside wide receiver spots, all over offensive formations.