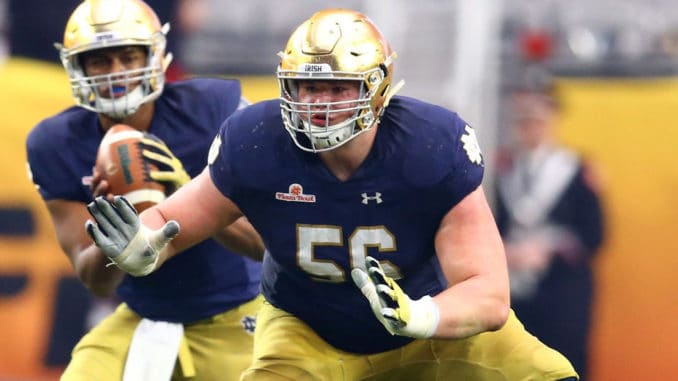 2018 NFL Draft Prospects by Position:
Offense
Quarterback | Running Back | Wide Receiver | Tight End | Offensive Tackle | Offensive Guard | Center
Defense
Defensive Tackle | 3-4 Nose Tackle | Defensive End | Outside Linebacker | Inside Linebacker | Cornerback | Safety
2018 NFL Draft Offensive Guard Ranking
Height: 6-5 Weight: 325 lbs
Powerful, technique-sound offensive guard that will be ready to play from the start… Full Profile
Height: 6-2 Weight: 302 lbs
A tackle in college, Wynn is best suited to move inside at the next level. Extremely quick and powerful off of the snap, allowing him to quickly gain the advantage over defensive linemen… Full Profile
Height: 6-3 Weight: 340 lbs
After returning for his senior season at UTEP, Hernandez will enter the 2018 as one of the most experienced and polished interior linemen in the draft…Full Profile
Height: 6-5 Weight: 305 lbs
Still working out what position suits him both, Smith might need to find himself in the right offensive system at the next level to fully take advantage of his skill set… Full Profile
Height: 6-4 Weight: 305 lbs
Ideal height and weight to play left tackle at the next level, but will have to work hard to showcase his talent throughout the draft process as he was not surrounded by NFL caliber talent, and might be better suited to play guard… Full Profile
Height: 6-3 Weight: 318 lbs
Played a lot of offensive tackle at Penn State, but skillset seems much more suited to play guard in the NFL… Full Profile
Height: 6-9 Weight: 368
A huge offensive guard prospect, that is much more versatile than his size might indicate. Not long ago, a guard this size would not be viable, as QB's playing under center could get a passing lane blocked by his huge frame… Full Profile
Height: 6-5 Weight: 304 lbs
A converted defensive end, and that athleticism, footwork, and tenacious use of his arms to gain leverage is evident on every play… Full Profile
Height: 6-4 Weight: 290 lbs
An excellent pass protector on the interior, Jones finished the year as the only guard that did not give up a sack or a quarterback hit for the entire season… Full Profile
Height: 6-7 Weight: 300 lbs
Versatile offensive lineman that has played primarily tackle, but also excelled at guard as well. Helped revitalize the Miami run game, and thrives with run blocking… Full Profile
Example Draft Considerations:
High level guard prospects normally have to have one of two qualities: Exceptional base and power- known as "mauler" or "road grader" in the run game, -or- a rare athletic freak that is versatile, able to play center or guard… sometimes even able to play any position on the line.
Strong "base" or "Solid Anchor" good for ability to hold up against NFL pass rush.
Hand placement and ability to "lock on" to defenders.
Some guards are "pulling guards" but not too common in college, where they take a step back at the snap, slide down the other side of the line and become a lead blocker in the run game.
Top guys are normally very physically gifted with big measurables. Mid round guys tend to be more typical build but often have a lot of experience and dependable.
How many sacks did they give up?
Did they or do they have a strong RB or overall running game behind him?