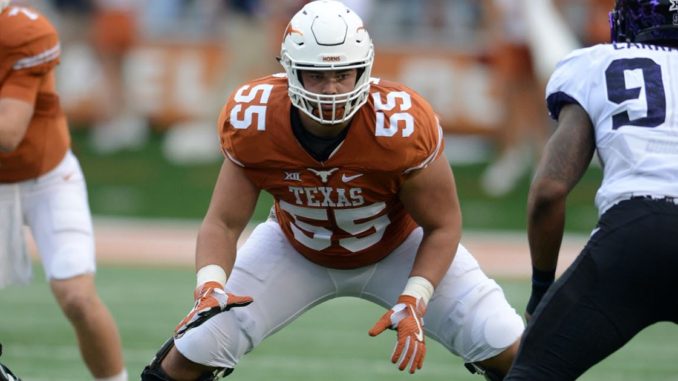 2018 NFL Draft Prospects by Position:
Offense
Quarterback | Running Back | Wide Receiver | Tight End | Offensive Tackle | Offensive Guard | Center
Defense
Defensive Tackle | 3-4 Nose Tackle | Defensive End | Outside Linebacker | Inside Linebacker | Cornerback | Safety
2018 NFL Draft Offensive Tackle Ranking
Height: 6-7⅝ Weight: 310 lbs
Moved to left tackle this year, but has looked far more natural as a right tackle.  Huge frame, excellent as a run blocker and can hold the edge, but has some trouble against speed… Full Profile
Height: 6-6 Weight: 290 lbs
Long, and still adding bulk to his frame, Williams has been an anchor of the offensive line since he was a freshmen… Full Profile
Height: 6-9 Weight: 295 lbs
A huge offensive tackle prospect that has the length and kickstep that NFL teams love for left tackle prospects… Full Profile
Height: 6-5 Weight: 307 lbs
A JuCo transfer, Martinas is just starting to get his name mentioned as a possible early round pick in the 2018 NFL Draft… Full Profile
Height: 6-5 Weight: 310 lbs
Excels in run blocking, but has steadily improved upon his pass protection at such a rate that NFL teams could still see him as a right tackle instead of moving him inside… which might have been the thought at the start of this year… Full Profile
Height: 6-8 Weight: 308 lbs
Desmond Harrison is a potential sleeper pick in the 2018 NFL Draft that has had his college career mired in eligibility issues, discipline problems, sitting out, transfers and perhaps, finally some stability…Full Profile
Height: 6-6 Weight: 318 lbs
Has excellent height and build to play left tackle, but is still developing his technique. Coming from a basketball background, he displays a lot of athletic ability, with good footwork and hand placement…Full Profile
Height: 6-6 Weight: 305 lbs
A converted tight end that has just one year under his belt at left tackle. Extremely athletic tackle, with very good length, and is continuing to pack on good weight to his massive frame…Full Profile
Height: 6-8 Weight: 360 lbs
A massive left tackle, who's father also played in the NFL, Brown has started 26 games over the last two seasons… Full Profile
Height: 6-5 Weight: 330 lbs
Exceptional size, length, and athleticism. Has good footwork and already has very good skillset for pass protection… Full Profile
Example Draft Considerations:
"Length" is key component of left tackles. Height, arm length, hand size all super important.
Footwork is very important, important for left tackles to handle speed.
Hand placement is needed for locking onto defenders, especially against power.
"Good overall technique" common trait for well coached, experienced tackles.
Left tackle prospects need to have a lot of starts at left tackle and against top competition to generally be considered elite.
Good "bend" and able to use "leverage"?
How did they fared against top DE prospects also in the draft?
Right Tackles may lack length, but need to be known as good run blockers.
"Road Grader" is exceptional run blocker.
"Ability to get to next level"… in run game or short passing game, able to beat a blocker, and move deeper into defense to block linebackers or other defenders.
"Versatility" – able to play guard as well.
Many tackles in college are best suited to move inside, but could be great guards in the NFL.
Able to defend "speed" and "power".
Number of sacks allowed.