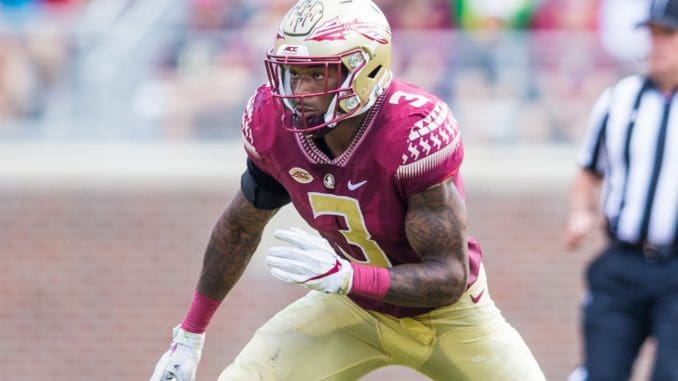 2018 NFL Draft Prospects by Position:
Offense
Quarterback | Running Back | Wide Receiver | Tight End | Offensive Tackle | Offensive Guard | Center
Defense
Defensive Tackle | Defensive End | Outside Linebacker | Inside Linebacker | Cornerback | Safety
2018 NFL Draft Safety Ranking
Height: 6-1 Weight: 203 lbs
A versatile defensive back that has played both safety and corner. As with any Alabama defensive back, he is technically sound, and will have a short learning curve at the next level… Full Profile
Height: 6-3 Weight: 211 lbs
Extremely well built and big size for a safety with the movement ability of a much smaller defensive back… Full Profile
Height: 6-3 Weight: 218 lbs
Most likely the next great Alabama defensive back to break out, Harrison is a big, physical safety that quickly diagnosis plays and closes on the ball… Full Profile
Height: 6-1 Weight: 196 lbs
Extremely versatile defensive back that can play any defensive back position and is a key contributor on special teams… Full Profile
Height: 6-2 Weight: 210 lbs
A true super safety prospect that can play all over the defense. Able to play in the box, blitz, defend the run, cover in short space and cover centerfield…Full Profile
Height: 6-2 Weight: 195 lbs
Exceptionally rangy, and able to quickly diagnose plays and gets to the receiver or ball carrier in a hurry…Full Profile
Height: 6-2 Weight: 220 lbs
Kyzir White is a prototypical hybrid safety / linebacker that fits the new breed of safeties that fits what NFL defenses need to combat offenses looking to create mismatches with running backs and tight ends in the passing game… Full Profile
Height: 5-11 Weight: 205 lbs
A ballhawking safety that is experienced and productive against top competition at the college level… Full Profile
Height: 6-2 Weight: 220 lbs
Exceptional in coverage that fits the role of a traditional free safety. Able to cover a lot of ground quickly with good recognition skills…Full Profile
Height: 5-11 Weight: 185 lbs
A prodigiously productive defensive back, Reaves is always around the ball, making tackles, getting interceptions, or breaking up passes… Full Profile
Example Draft Considerations:
Can they cover deep, cover shallow routes, blitz, effective against the run in the box? If they can do all, they are super safety
Some are just "centerfielders" or "cover the centerfield" and sort of a pure free safety.
Some are very strong or tough but not great in coverage, and are better as "in the box" safeties.
Tackling ability and willingness to tackle are key.
Do they "break down" before a tackle or tackle without framing up to the ball carrier.
Experience at the position.
Durability.
Can they play corner as well?
Do they contribute in return game?
Number of INT's and sacks.