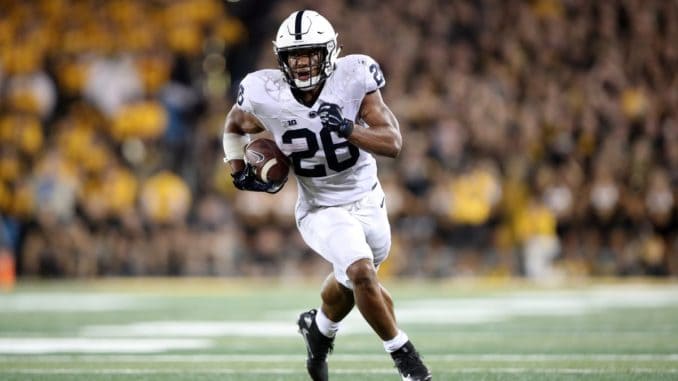 2018 NFL Mock Draft | DraftGeek's Mock Draft
2018 NFL Draft Prospects by Position:
Offense
Quarterback | Running Back | Wide Receiver | Tight End | Offensive Tackle | Offensive Guard | Center
Defense
Defensive Tackle | 3-4 Nose Tackle | Defensive End | Outside Linebacker | Inside Linebacker | Cornerback | Safety
Extra: Sleepers
2018 NFL Draft Running Back Ranking
1. Saquon Barkley, Penn State
Height: 5-11 Weight: 215 lbs
Built in the mode of a borderline "power back" at the next level, Barkley possesses an excellent blend of power and agility… Full Profile
2. Derrius Guice, LSU
Height: 5-11 Weight: 215 lbs
Has the makings of a three down back in the traditional sense as he shows power, agility, and break out speed… Full Profile
3. Sony Michel, Georgia
Height: 5-11 Weight: 222 lbs
A gifted athlete, Michel has a knack for finding the right holes, putting his foot in the dirt and is able to hit top gear about as quick as any back in the nation… Full Profile
4. Ronald Jones II, USC
Height: 6-1 Weight: 195 lbs
Has perhaps the best breakaway speed of any running back prospect in the draft… Full Profile
5. Rashaad Penny, San Diego State
Height: 5-10 Weight: 220 lbs
Penny is the successor to Donnel Pumphrey at San Diego State, but he might be a better NFL prospect. He has a prototypical running back build at 5'10 220 lbs., with an electric burst and quick acceleration… Full Profile
6. Nick Chubb, Georgia
Height: 5-11 Weight: 220 lbs
Strong lower body that he optimizes with outstanding balance and agility. Runs naturally with excellent vision, change of direction, and patience… Full Profile
7. Kerryon Johnson, Auburn
Height: 5-11 Weight: 212 lbs
Highly productive back that has helped Auburn defeat the number one team in the country twice in 2017… Full Profile
8. Royce Freeman, Oregon
Height: 5-11 Weight: 230 lbs
Strength is in his vision and balance. Is able to stop on a dime and redirect, including small adjustments made in a crowd… Full Profile
9. Mark Walton, Miami
Height: 5-10 Weight: 200 lbs
An elite athlete, that had his season cut short in 2017 because of a knee injury. Very explosive, and once he puts his foot in the ground and makes a decision, he reaches top speed very quickly…Full Profile
10. Akrum Wadley, Iowa
Height: 5-11 Weight: 180 lbs
Slightly undersized to be used as an every-down back, Wadley's future in the NFL is as a running back / wide receiver hybrid player that is used as a matchup nightmare for defenses…Full Profile
Example Draft Considerations:
How do they do in each of three major skills of being an NFL RB: running skill, passing ability, pass protection?
Are they 220+ and considered a power back?
"Vision" and seeing holes and good decision-making
Ability to put foot in the dirt, make a cut and beat defenders
After making a cut, can he accelerate quickly?
Ability to make people miss in the open field.
Open field "top gear" which allows them turn small runs into big plays.
Hands and able to protect the ball.
Durability.
Experience. It is good for a RB to have enough experience to showcase their talents, but not too much where they already have absorbed a lot of hits.