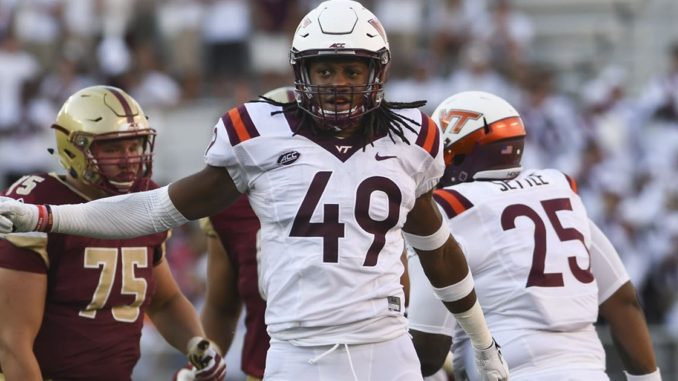 2018 NFL Mock Draft | DraftGeek's Mock Draft
2018 NFL Draft Prospects by Position:
Offense
Quarterback | Running Back | Wide Receiver | Tight End | Offensive Tackle | Offensive Guard | Center
Defense
Defensive Tackle | 3-4 Nose Tackle | Defensive End | Outside Linebacker | Inside Linebacker | Cornerback | Safety
Extra: Sleepers
2018 NFL Draft Outside Linebacker Ranking
1. Tremaine Edmunds, Virginia Tech
Height: 6-4 Weight: 236 lbs
Elite level awareness and recognition that is gifted operating in the open field. If he has any noticeable weakness at this point, it is that he sometimes allows his phenomenal instincts to lead him too quickly, and can sometimes take an initial false step… Full Profile
2. Harold Landry, Boston College
Height: 6-3 Weight: 250 lbs
A big, fast, premium edge pass rusher, best suited as an outside linebacker in a 3-4 or a pass rush specialist in a 4-3… Full Profile
3. Lorenzo Carter, Georgia
Height: 6-6 Weight: 242 lbs
A lean, well balanced defensive end that uses his length well to gain a leverage advantage on blockers… Full Profile
4. Uchenna Nwosu, USC
Height: 6-2 Weight: 240 lbs
A natural leader on the defense, Nwosu is a converted safety that has the awareness of a defensive back, but is growing into a strong side linebacker's body… Full Profile
5. Ogbonnia Okoronkwo, Oklahoma
Height: 6-2 Weight: 240 lbs
A quick-footed edge pass rusher in a 3-4 or a pass-rush specialist defensive end in a 4-3, Okoronkwo has a flair for speeding past offensive tackles… Full Profile
6. Jerome Baker, Ohio State
Height: 6-1 Weight: 215 lbs
In today's NFL, there is a demand for hybrid linebacker / safety type players that can handle the mismatches presented by offensive coordinators… Full Profile
7. Jeff Holland, Auburn
Height: 6-1 Weight: 249 lbs
An off the edge, pass rushing outside linebacker that thrives off of getting into the offensive backfield… Full Profile
8. Malik Jefferson, Texas
Height: 6-3 Weight: 232 lbs
Settling on the outside for the 2017 season, Jefferson should be able to showcase his elite range and aestheticism… Full Profile
9. Dorian O'Daniel, Clemson
Height: 6-1 Weight: 215 lbs
An extremely versatile, off the ball linebacker, O'Daniel is a rangy, playmaking linebacker that isn't a matchup liability in today's NFL… Full Profile
10. Trevon Young, Louisville
Height: 6-4 Weight: 233 lbs
Coming off a hip injury, Young is showing flashes of being an elite pass rusher off of the edge… Full Profile
Example Draft Considerations:
First trick is determining the position in the NFL- if possibly a defensive end. Most 4-3 DE's are fairly long and built, but some 4-3 DE's in certain systems are "designated pass rushers" or "pass rush specialists", that might come in on 3rd down or any obvious passing down. That is generally a smaller, speedier defensive end that could be a liability against the run.
Primary skills to evaluate:

Ability to drop into coverage (including covering matchup nightmares like speedy tight ends and running backs that move into the slot to receive).
Run stopping ability.
Blitzing ability (or general pass rush ability).
"Sideline to sideline" agility and range.
Can "break down", which is a tackling technique of stopping before you tackle someone so you don't get beat by last second moves.
Number of sacks / INT's, TFL's
Most of the OLB's in the scouting reports are either middle linebackers in 4-3's or OLB's in 3-4… the skillset is often pretty close. Guys that are destined to play strongside or weakside in a 4-3 are generally a tier below and skew strongly to either better against the run, or better in coverage.